MTM: Exploring new vistas
"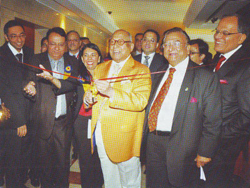 Mumbai on April 13, 2012, was yet another significant step towards understanding and appreciating the stupendous growth of MICE over the years, not only in India, but around the globe. A unique platform for bringing together corporate purchasers and travel agents (Buyers) and travel-service providers (Sellers), MTM also included a MICE Seminar (a key attraction) held in the morning that took note of the latest trends in the MICE industry, the challenges being faced by it and how to deal with them. MTM was inaugurated by Capt C.P.K. Nair, Chairman, Leela Group of Hotels, and an icon of the hospitality industry.
All kinds of service providers and decision-makers in the hospitality, travel and tourism industry turned up at MTM. It was attended by over 60 Sellers, which included tour operators, Destination Management Companies, National Tourism Boards, hotels, airlines and a number of travel-service providers, including cruise and car-rental companies.
A galaxy of senior management from the corporate sector and leading travel companies attended the event as Buyers, who numbered 250. Some of the major corporate entities who made their presence felt included Tech Mahindra, Deloitte, Syntel, Fiat India, Glennmark Pharmaceuticals, Colgate Palmolive, Kotak Commodity Services, Apollo Tyres, Tata Consultancy Services, Blue Dart, Amway, Ultra Tech Cement, Croma, Tulip, WNS, Welspun, Wockhardt, Shell India, Punj Lloyd, KPMG, Moet Hennessy, Germanischer Lloyd, Yahoo, and the Aditya Birla Group.
All major trade associations, including TAFI, TAAI, SFTO, IATO, OTOAI, ADTOI and ETAA, extended their overwhelming support to MTM.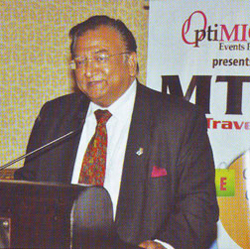 The opening Seminar was attended by distinguished personalities from the corporate world as well as the travel, airline and hospitality industries. The speakers who presented their views on the evolving trends in MICE at the Seminar included Kamal Gill, Director, OptiMICE Events Pvt. Ltd.; Capt. C.P.K. Nair, Chairman, Leela Group of" Hotels; Subhash Goyal, President, IATO; Ashwini Kakkar, Executive Vice Chairman, Mercury Travels; Rajeev Menon, Area Vice President, India Subcontinent, Maldives & Australia, Marriott International; Gopi R. Iengar, Head Products & Contracting – FIT, Kuoni Travel (I) Pvt. Ltd.; Naveen Rizvi, Vice President, India & Business Head, TUI; Rajan Bahadur, Regional Director, Sales and Marketing, South Asia, Starwood Hotels & Resorts; and Biswajit Chakraborty, General Manger, The Leela Mumbai.
Praveen Shaikh, Sr. Administration Manager, Moet Hennessy Louis Vuitton, and Kaushik K. Seal, Head of GL Academy-South Asia, Germanischer Lloyd SE., spoke on behalf of the corporate world and made a pitch for quality support from the travel-service providers.
While welcoming all at the jam-packed Seminar section of MTM, Kamal Gill said, "The hi-energy of the professionals assembled here today supports the incredible success of the MICE segment. Both the domestic and the outbound MICE markets are doing particularly well…which is one of the many reasons we are here today."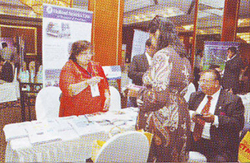 Pointing out that MICE is a promising industry the world over and the yearly events' calendar of nations is chock-a-block with MICE events, Gill said, "Corporates, globally, have embraced meetings and training as an integral part of their growth strategy. Incentive travel is necessary not only for generating "customer sales, but also for encouraging loyalty among employees and sales partners." Tracing the evolution of MICE in India, Gill stated, "The country is one of the fastest growing MICE markets in the world. Domestic players and foreign destinations are relentlessly wooing the MICE market in India with packages and offerings. The MICE traffic in India is no longer restricted to the metros, but has trickled down to Tier-II and Tier-III cities as well. Indians explore foreign shores for MICE, and are pushing new boundaries on the domestic front."
Subhash Goyal, President, IATO, said that events like MTM helps travel-service providers to know about the needs and difficulties that the corporates face. "This is very important because ultimately if we have to deliver a quality product, service or experience, we must know what the customers want, and unless and until we understand that, we can't offer a first-class product or a first-class service," he reasoned. He suggested that MTMs should be held in more cities and offered his unequivocal support to MTM.